Yes, I was there :)
What can I say about this experience and how the hell did I end up here? Well, as I recall, I was too young to drive but my older brother
@B-Stiff
was not. He had a girlfriend with a very savvy older sister who started feeding us "new wave" music and somehow, there were 4 tickets to a show at the Pantages to see this band called The Talking Heads. I was invited to go if I could scrounge up $14.50, which I did (thanks Mom), and with my Jr. High best buddy, off we went for a wiggly ride.
I'm such a huge fan of them now that I like to think I was then. But the truth is we were in Jr. High and I'd never heard of them before. When we walked in and saw all the cameras (had no idea we were going to a film event), and an empty set, I assumed we were in the wrong place and were going to be extras in some movie. Which seemed fine to me. When some man came on to the bare stage with an acoustic guitar and a boom box (yes it was the 80's my friends) I had no idea that it was the beginning of the show. When he started playing and singing not only was I shocked but it was also the very first time that I heard Psycho Killer. Not a bad introduction.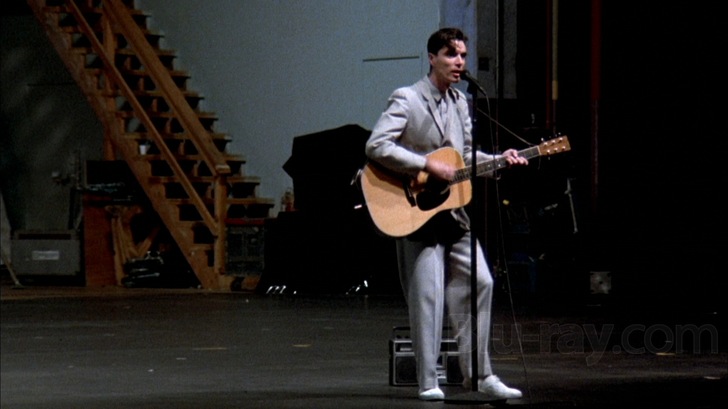 For everyone (and it's likely everyone) who have seen the film, from this moment on the band is slowly revealed one song at a time. Tina comes out with her bass next to do a rendition of Heaven that is seared, along with her dance moves, in my brain from that night at the show to the monthly listen of it ever since.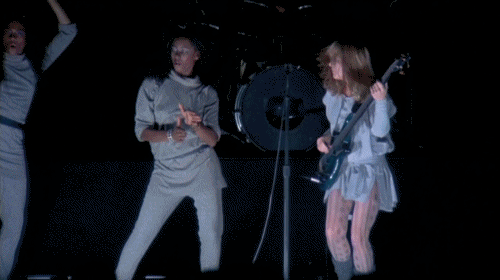 And then it just continued. Chris and Jerry come out next and they play as a 4 piece which I would learn later was the original lineup and playing what were to be some of my favorite songs period. For a kid that to this point had grown up on big and burley rock solos vis a vi KLOS, Jerry's styling on those early songs literally changed my listening habits in a single night. Both sexier and smarter than anything I was used to hearing.
The rest is history, because, well, this night (and the two others that were part of this taping) are of course REAL history.
It's a joy to stumble to this show page and take a second to pause and reflect. It's always been a feather in my music cap and an easy boast (do you blame me?) when it comes up, but I realize now what a unique set of things came together to allow a band to reveal itself so personally and literally. Wide eyed and innocent. Awesome.
And of course, it takes you a lifetime to appreciate those ONCE IN A LIFETIME moments when you stumble upon a piece of light you didn't even know you were reaching for. And somehow grasp it.
And the days go by......
Just in case any of you kids have no idea what I'm talking about right above this is the trailer!
See who liked this
See who liked this